Finding new artisans in Nicaragua is no easy feat. Not because there aren't many, but because you can't just walk into a store front or follow signs for 'Here lives a woodworker" or painter or pottery maker, or whatever countless type of artisan found here. So meeting Reyma was a true divine intervention. She is the brilliance behind UpUp Baby's wooden puzzle series. As I spoke to a carpenter about what type of products I hoped to make he told me he knew this lady that lived nearby who painted. "Hmmm… ok… let's see where this takes me" I thought to myself. He drove me a few blocks into the town of Nandasmo and into a side street. If I hadn't known him very well, this would definitely sound like a sketchy situation I was getting myself into. But luckily that wasn't the case as he is also one of our carpenters working on the UpUp Baby collection. We parked in front a very humble house and walked straight back where I saw four ladies painting away. After a short introduction, they began to show me their work and I was blown away! From the street, you would have never guessed that pure talent and artistry lives here. So I was very grateful for this encounter.
Reyma has been painting since she was a young girl. She was raised by artisan parents and watched them making things growing up. But after losing both her parents at the age of 12, she was forced to pick up where they left off in order to help her family make a living. It was a necessity, but it was also her passion, so she did it willingly and happily. You can tell in her eyes, she loves her work. And now she shares her talent with her three daughters. Emily, Karen, and Fernanda all inherited her family's artistic talent. Emily helps her with the business side of things when she's not painting. Karen can paint it all. And Fernanda, the youngest who is finishing up high school, is a young master who helps out after school. Being around these ladies is always so much fun. They are very cheerful and you can't help but smile when you're with them.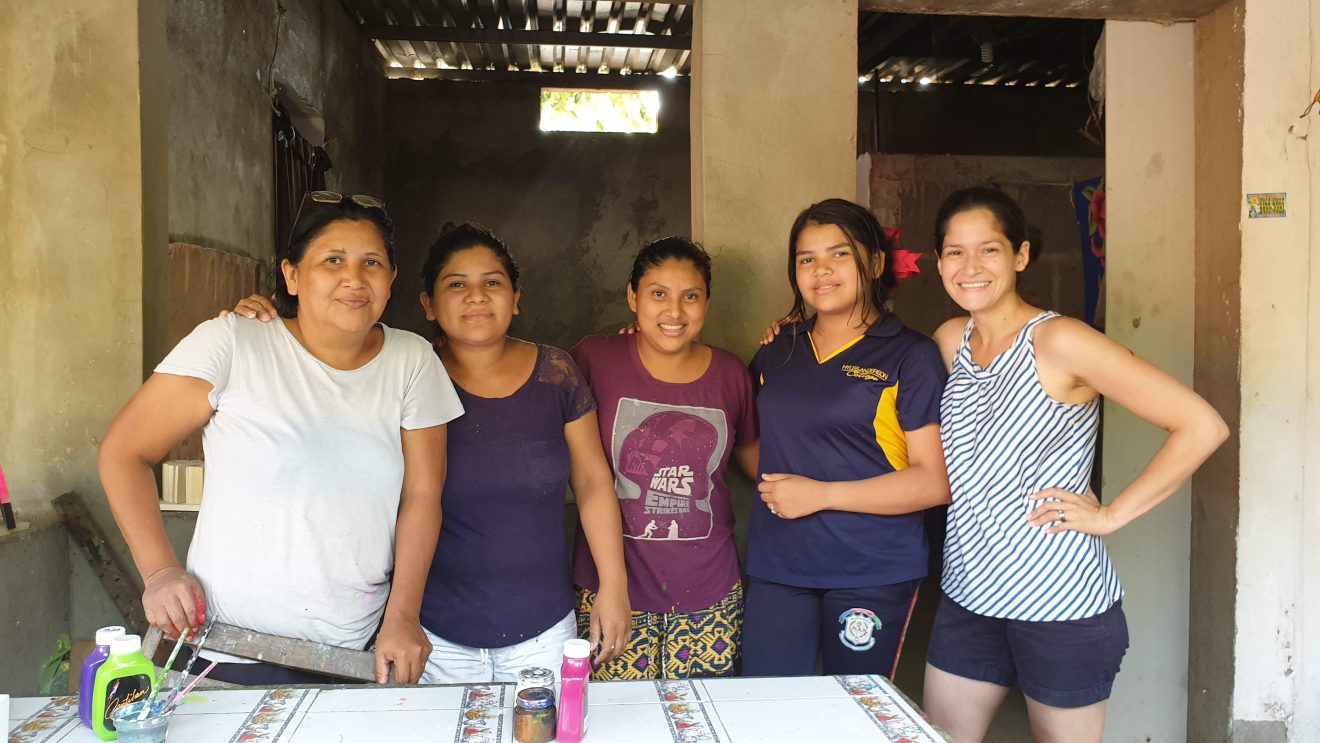 If you have ever been to Central America and bought some sort of souvenir, chances are you saw one of their products. Their bread and butter is the souvenir market and their technique is pointillism or simply dot painting, and pyrography, or wood burning. On our first encounter they showed me countless products with their art. Wooden bookmarks with burnt floral designs. A pencil holder with a hummingbird fully covered in dot painting. Napkin holders, keychains of all shapes, wooden keepsake boxes with amazing dotted paintings of birds, flowers, landscapes. I thought "Oh my God, I have to bring this talent to the world!" This beauty could not just be placed on cheesy souvenirs. After coming home with a few new souvenirs I began my product design process. What is it, you ask? Stare mindfully and quietly at my inspiration and try to have my mind go blank.
One could say that blanking the mind is not very effective when you're trying to think up something. However, I know that by quieting the voice in my head, I am able to let creativity flow freely and let an idea come to my mind with clarity and surety. But nothing came to me in that moment! Creativity sometimes has a wicked sense of humor. So I breathed it out and moved on expecting the idea to come in its due time. Surely enough, the idea came while visiting relatives. My cousin handed over some old wooden puzzles to entertain the kids and there it was! I was to make wooden puzzles painted in pointillism. Well not me exactly, but I was to act as the channel to bring this idea to reality. Needless to say, I played with those puzzles way more than my kids that day!
As far as I was concerned, I hadn't seen this technique on wooden puzzles. In fact, I hadn't seen pointillism on many children's products. So I'm definitely excited to bring it forth. It's a beautiful art. You may be surprised to learn that this art technique dates back to the late 1800's. Pointillism came from the French word point, or dot. Neo-Impressionists Georges Seurat and Paul Signac are among the famous painters who used pointillism. For those art-lovers out there, you may enjoy knowing that Seurat was the creator of this technique, however he preferred the term Divisionism, which is the principle of separating color into small touches placed next to each other. This effect was meant to blend in the eye of the viewer.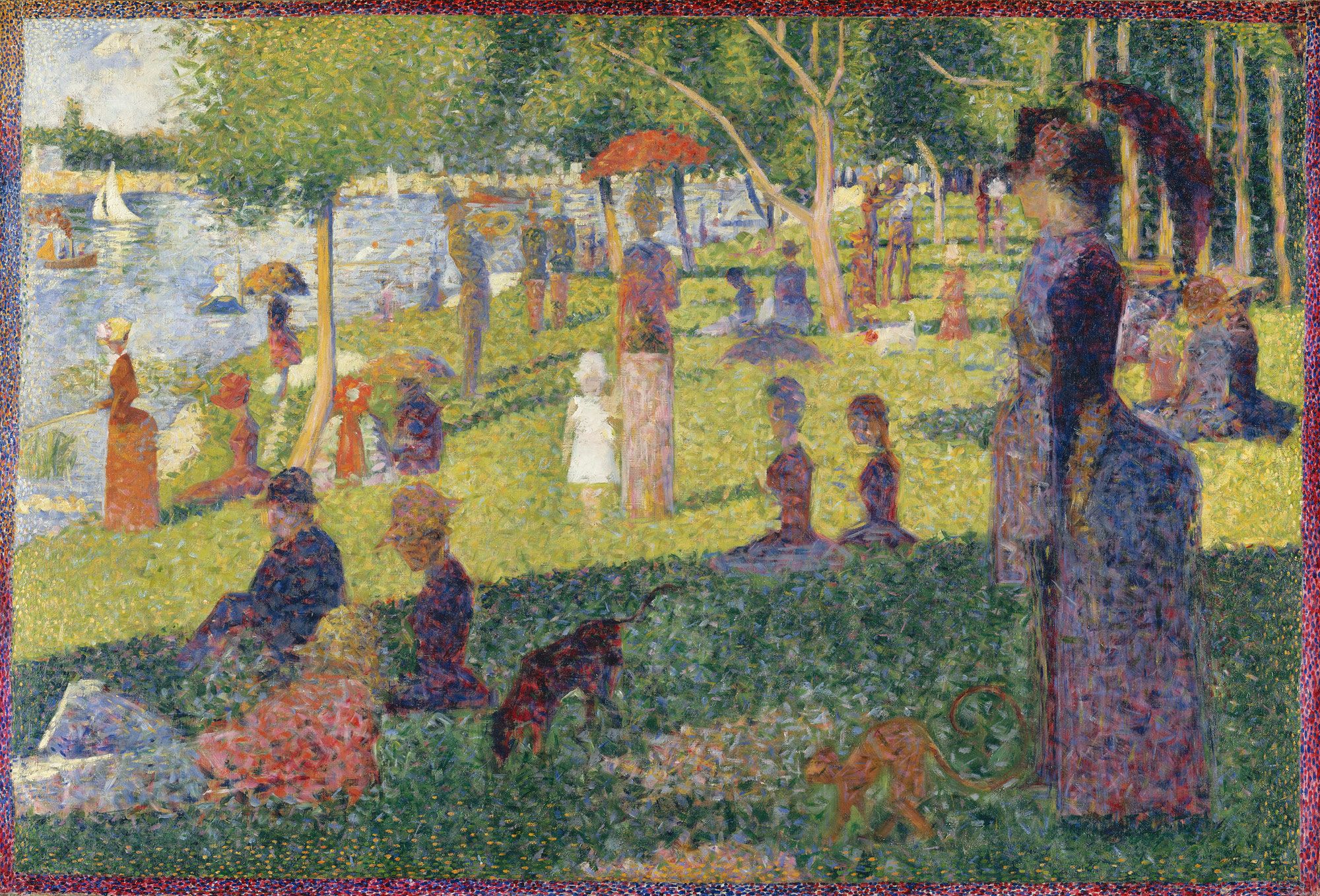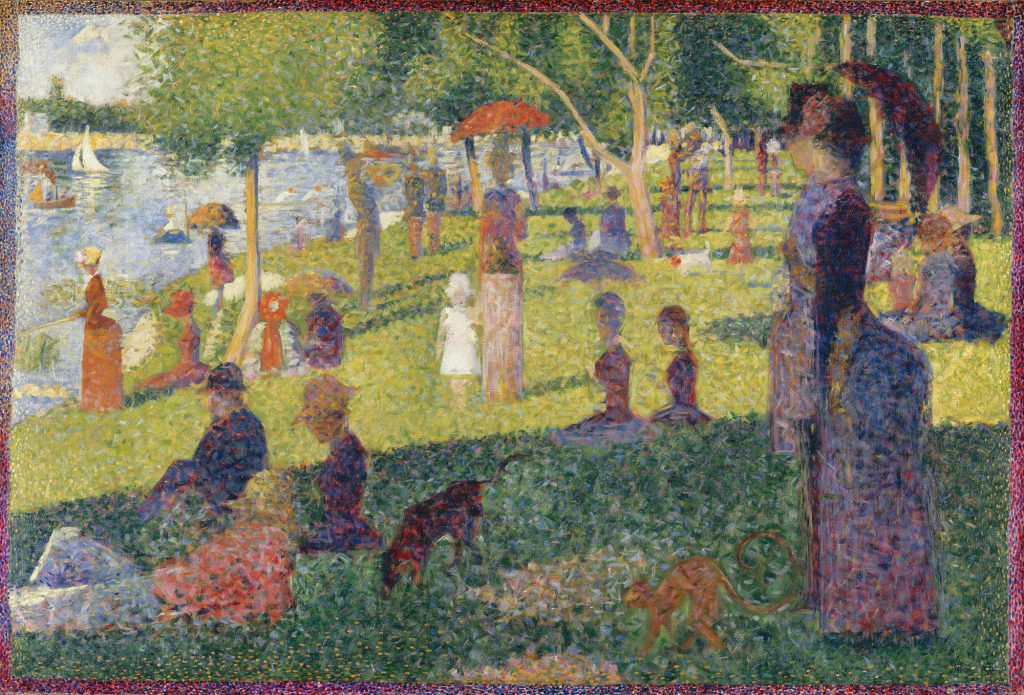 After some more mindful staring I thought of two sets of puzzles to include in UpUp Baby's collection launch: Safari and Marine! Our Safari set includes a lion, an elephant, a zebra, and a giraffe. The Marine set offers a starfish, a dolphin, a turtle, and a fish. I am so proud of these pieces! I'm also very happy that Reyma and her girls have fun making them and are also really proud of each other for their work. They stepped outside of their comfort zone to make something new, something unique and special for kids. Let me quickly share with you the process for making these pieces.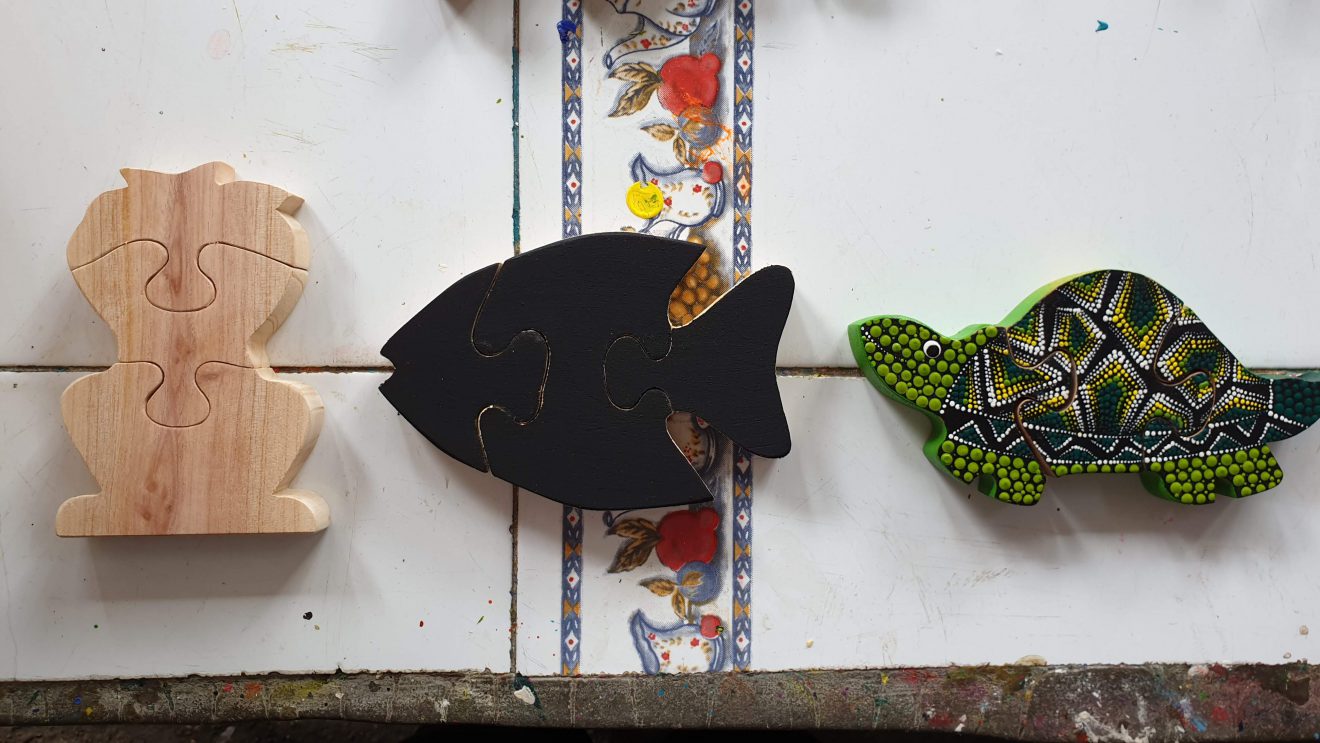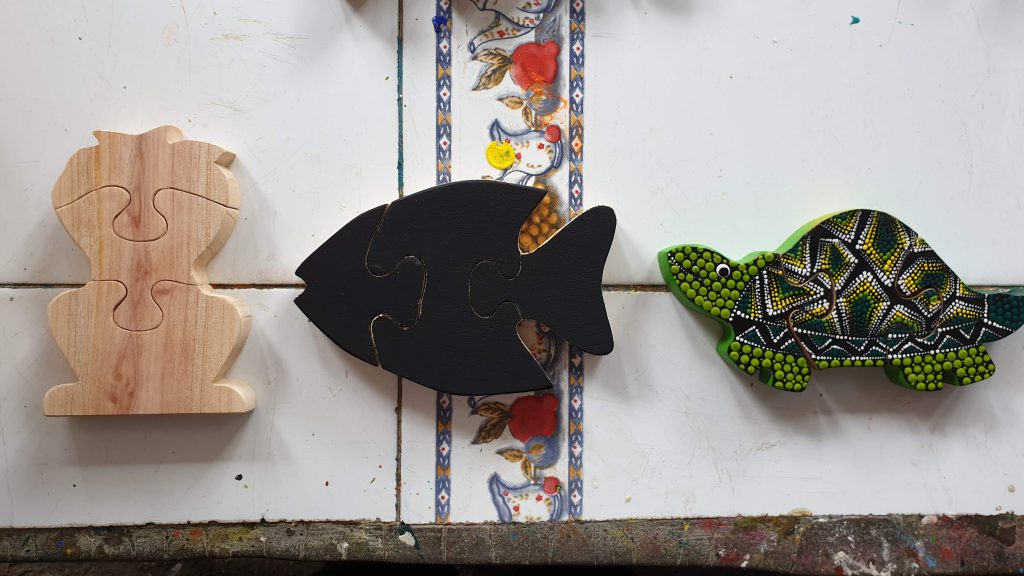 First I discuss with the ladies which animals would work best within the set based on those whose natural look lends itself to dot art. For example, the giraffe was a given, it already has a dotted pattern. But the dolphin has smooth skin, so we had to think of how we can give it a nice and natural look. Once we had the animals selected, it was time to make the first draft cutting out the wood. We tested the shape, weight, and dimensions. Once confirmed, the ladies started on the painting. The bottom layer must be black in order to really bring out the colors. Then they painted away, dot by dot. Once they had the first set painted it was time for my part in the work. My past life as an auditor comes in handy when it comes to paying attention to the details. The first try was a no-go as I insisted on staying true to the natural elements of the animals' look. Have you ever really looked at the scales of a fish? It truly is a work of art! So it was essential that both the natural beauty of the animal and the artistic talent of the team shined through.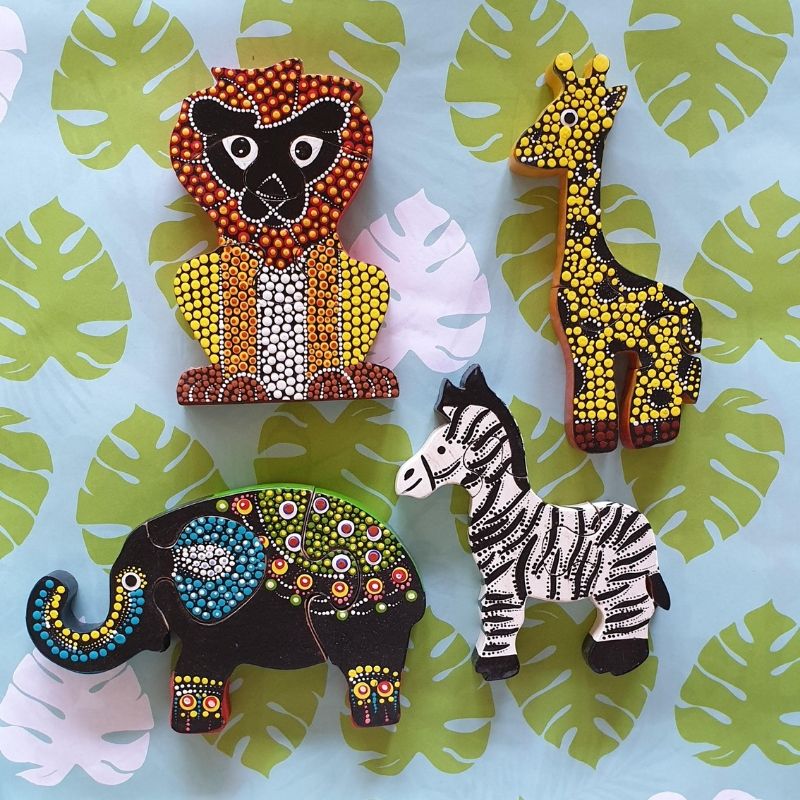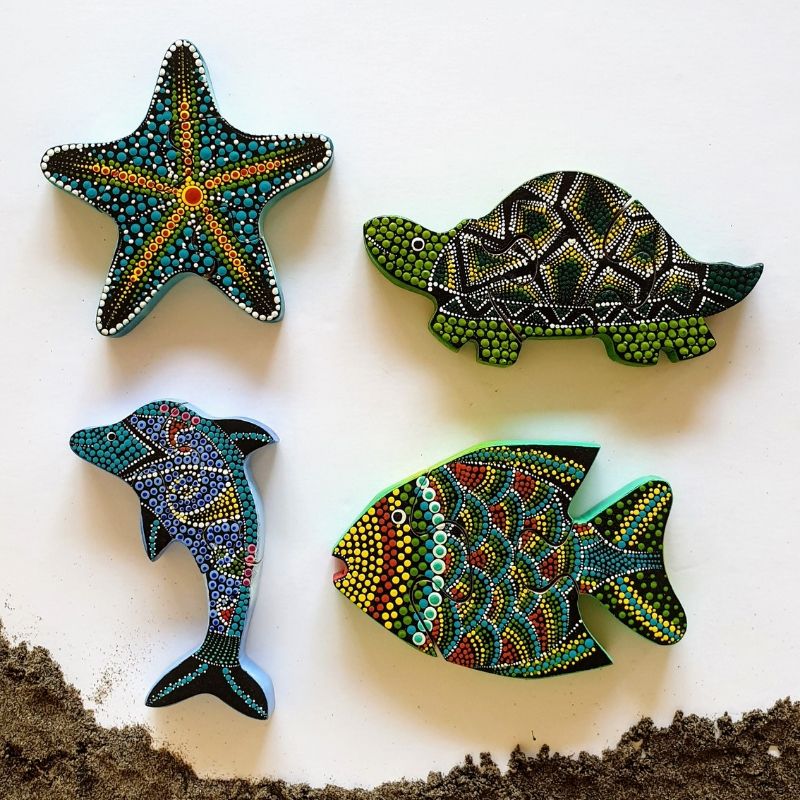 The girls got that and the second draft was great. After a few more tweaks the team was ready for dotting! The sets came out beautiful! Each piece is truly special, unique, in the kind of way only a handmade item can be. There's no machinery here. Only human hands, creative minds, and warm hearts. I hope your kids enjoy them as much as mine do. It's wonderful to see my three year old son looking at the pieces, admiring the artwork and playing away. UpUp Baby's mission is to deepen the childhood experience with meaningful and beautifully handcrafted items to use and enjoy while opening their minds to a world of wondrous possibilities. I believe these pieces accomplish that!
You can purchase your set soon when the online shop opens. I'm working hard to get these to you quickly, I promise. If you haven't already, sign up for the UpUp Baby newsletter to get 10% off your first purchase.
Now it's your turn! Pointillism, now commonly referred as dot art, can be a lot of fun for kids to try. I found a few great ideas for you to try at home with the kiddos. I've pinned these on UpUp Baby's Art, Music & Kids board on Pinterest. Here are some favorites: