What you need to know about our Baby Swing.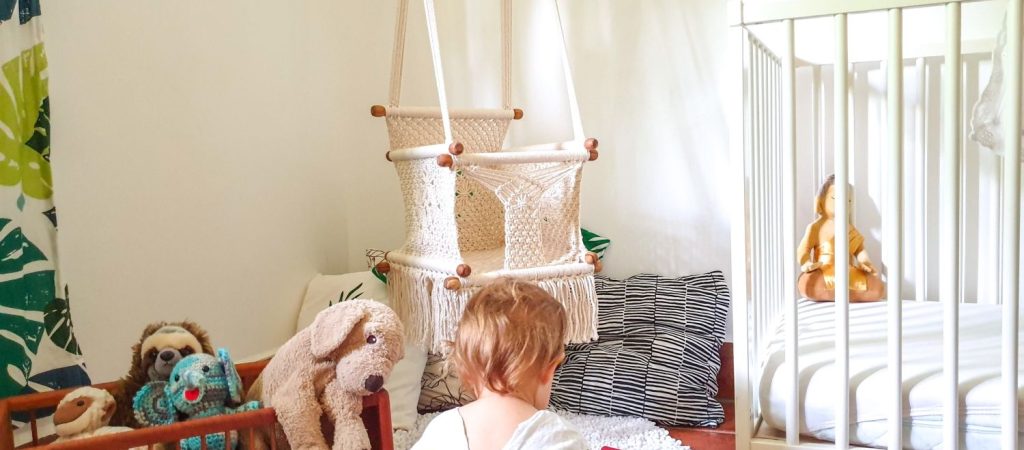 Installation and care guide
The first thing to consider when installing your baby swing is the location. Look for spaces with enough room to comfortably swing your little explorer.
Second, it's very important to place the swing on a strong beam on your ceiling. It's necessary to emphasize that the beam you choose must resist the weight of the swing plus triple the weight of an average person. In case you see this step difficult, ask an expert. It is necessary to find the right beam for the protection and safety of your little ones. Once you found your spot and ensure proper beam support, you can start the installation.
For this, you need the following tools:
Measuring tape
Post/Stud finder
Kit for Heavy Duty Hook and Chain for Hanging Chair/Hammock Chair. You have a variety of choices on Amazon, but we found this one works well and has useful instruction videos (Search Amazon for BYER OF MAINE Heavy Duty Swivel Hook and Chain for Hanging Chair/Hammock Chair, Swivels 360 Degrees, Holds up to 250lbs or similar).
Drill
Steps for installing the Macramé Baby Swing
Look for and find a good spot for the swing. Once you find it, measure the space the baby will have to swing. The most advisable is to leave at least 3 feet available to swing around. The purpose of this space is to give enough opening to the Swing and avoid that it does not crash into a piece of furniture or walls.
Use the post/stud finder to find the wooden beam on your roof at or near your desired spot. When you find the right one, double check that the baby still has at least 3 feet for swinging.
Now follow the instructions of your Hook kit. In general, the steps are:
Mark the holes of the roof.
Pre-drill your holes.
Screw in the lag screws.
Hang the chain from the hook.
Hang the Swing from the S hook.
Swing and Enjoy!
Macramé Baby Swing Care Guide
To keep your Macrame Baby Swing in good condition, take into account the following tips: If you chose to hang your swing outside, bring it indoors after use so it is protected from environmental damage like rain and dust. In case your baby swing gets a little dirty, use a brush that does not damage the fibers or a white dish towel to spot clean the swing with cold water. For bigger soils, use a bit of cold water and mild soap to gently brush it away. Avoid detergents with bleach. Always, hang dry in a well ventilated area.
Stay connected with UpUp Baby